Prior to the 20th century, most doors were hinged, meaning they opened and closed on hinges affixed to the side of the doorframe. Then, in the 1920s, a new type of door began to gain popularity: the sliding door.

Unlike hinged doors, sliding doors do not have any hinges. Instead, they are mounted on brackets that allow them to slide open and closed. Sliding doors gained popularity for a variety of reasons. They are often more space-efficient than hinged doors, since they do not require any space to swing open. They can also be more aesthetically pleasing, as they often have large glass panels that let in natural light.

Sliding doors have been used in homes and businesses for decades, and their popularity shows no signs of waning. Thanks to their many benefits, sliding doors are here to stay.

One of the great things about modern sliding glass doors is that they are extremely secure. The newer models have a lot of features that make them much more difficult to break into than the older models. They usually have a strong metal frame that is reinforced with security features like corner locks. They also have multiple locking points along the length of the door. This makes it very difficult for someone to force their way through the door.

When it comes to security, there is no doubt that a good sliding door is a necessity. Not only is it an efficient way to create separation between different areas of a home, but it can also be a deterrent to burglars. There are numerous different sliding door manufacturers available on the market, but if you are looking for the most secure option, the InfiniGLIDE 6 should be your top choice.

The InfiniGlide 6 Sliding Door is a heavy-duty, top-of-the-line door that is perfect for both commercial and residential applications. It is made with a 6" frame and a 16-gauge steel skin, making it one of the sturdiest doors on the market. The door also has a patented glide system that allows it to open and close smoothly, without any jolts or jerks.

Some of the other great features of the InfiniGlide 6 Sliding Door include:
-A reinforce internal support system that gives the door added strength and durability
-A bottom track that is designed to keep dirt, debris, and water out
-A top-mounted roller system that ensures smooth, quiet operation
-A locking system that keeps the door securely closed

This door system is certified to RC2n security levels, which is the European equivalent of UK PAS24. This certification means that the InifiniGlide 6 has been tested to strict security standards and has passed all requirements.

The InfiniGLIDE 6 is a modular system that can be installed with a maximum height of 6 metres. This means that it is the perfect option for use in high-security areas, such as hospitals, banks, or businesses. It also features large fixed and sliding panels, which help to create an almost seamless interface between internal and external spaces. This openness is a major deterrent to criminals, as it makes it much harder for them to break into the building.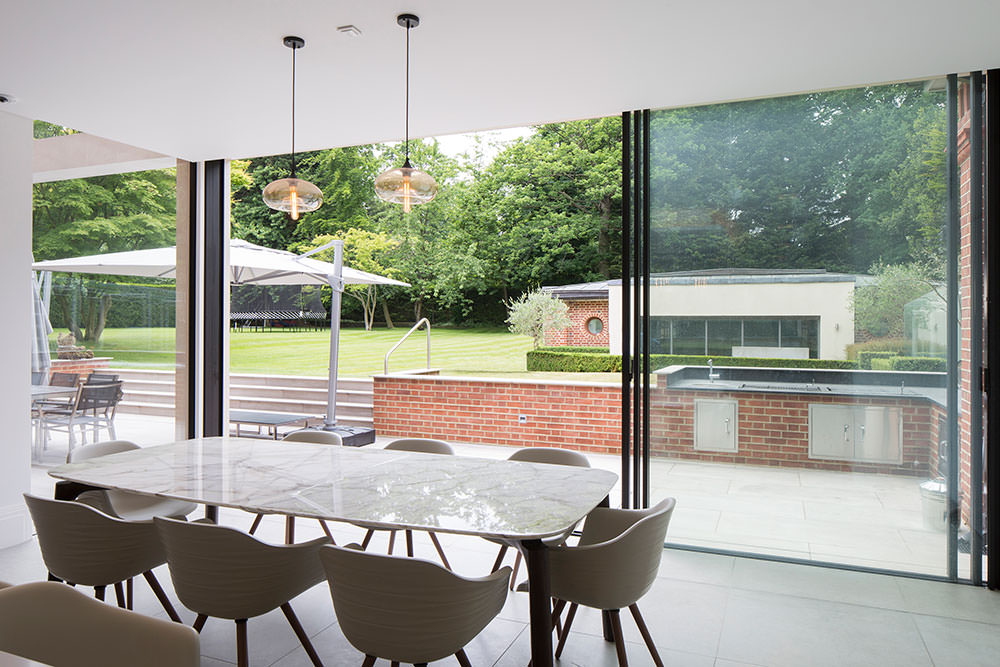 One of the main features that makes the InifiniGlide 6 so secure is the fact that it is fitted with an six-point locking system. This locking system is designed to resist forced entry, meaning that your property is much better protected against break-ins. Additionally, the InifiniGlide 6 comes with a steel plate reinforcement around the locking area, further increasing its security.

In addition to its security features, the InfiniGLIDE 6 is also exceptionally flexible. This means that it can be adapted to a variety of different settings, no matter how tight the budget. Additionally, its slim-frame design makes it easily portable. This means that it can be moved around the property as needed, without taking up a lot of space.

When it comes to security, nothing is more important than peace of mind. And when it comes to sliding doors, InfiniGlide 6 is the clear winner. Here's why:

InfiniGlide 6 sliding doors are made from high- quality aluminium, making them not only strong but also durable. They are also available with a maximum panel width of 3000mm and a maximum panel height of 6500mm, making them suitable for all types of projects. From shop fronts to hotels, and even a residential patio space, the InfiniGlide 6 will instantly transform any entrance into a beautiful masterpiece.

But the beauty of the InfiniGlide 6 is not just skin deep. These doors are also equipped with a three-point locking system as well as a deadbolt, making them some of the most secure sliding doors on the market. The InfiniGlide 6 also comes with a 10-year warranty, so you can be sure that your investment is protected.

So if you're looking for sliding doors that are not only beautiful but also secure, the InfiniGlide 6 is the clear choice. Contact us today to learn more about this outstanding product.

So whether you are looking for a reliable and secure sliding door system, or one that is extremely flexible and easy to use, the InfiniGLIDE 6 is the perfect option.