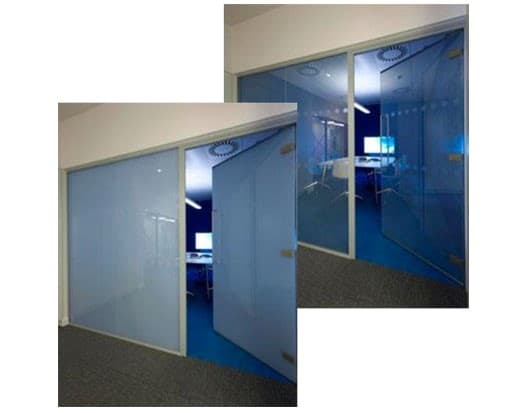 What About Liquid Crystal Glass (LCG)?
Our smart glass range includes LCG. Functionally, LCG is not dissimilar to electro-chromic glass, which can be programmed to control light entry and regulate temperature. LCG features a laminated film that can be switched from clear to opaque.
LCG is a form of smart glass that is suitable for residential and commercial environments. We install it for customers in the London area and UK-wide and can integrate it with heated or super insulated glass depending on the nature of the project.
Our smart glass is flexible enough to work with static or moving elements, so you won't be limited when choosing the best application for your LCG. Contact us for further details by sending us a message or book an appointment online.
---
Electro-Chromic Glass – Versatile and Convenient
Technological innovation has led to the advent of electro-chromic glass. This is a product that can be remotely programmed and operated via a tablet or smartphone, and which allows the user to control light entry and temperature.
Our commercial and residential customers – in London and UK—wide – often choose this type of smart glass over other products. Being able to change the colour of their glazing and other aspects of its appearance appeals to them.
95% of the surface area of electro-chromic glass can be tinted. You'll have a great deal of control over the appearance of your smart glass when you choose this product. Find out more by choosing Finepoint Glass as your preferred installer.
---
Stay Safe with Fire Rated Glazing
In certain situations, fire rated glazing is a mandatory requirement. Finepoint Glass will be able to tell you whether you need this form of smart glass to comply with Building Regulations (you can still ask us to fit it – even if it isn't legally required).
This is smart glass that will protect your home or business and will have been tested to comply with all legal requirements. Finepoint can provide proof of certification upon request. We can tailor your fire glazing to suit your project specification.
Keep Warm with Heated Glazing
Our smart glass range includes heated glazing. This is installed unobtrusively, so visitors won't be aware of the source that's keeping them warm. Aesthetically, this is a product that excels.
Heated glazing is used in commercial environments nationwide. We've installed it for customers in London and UK-wide – to great effect. Why not find out more about its many benefits?
Our innovative smart glass generates heat via glazed panels and derives its power from a thermostat or dedicated building control system. Call us on 01923 229 949 for further assistance.

Read More
Smart Glass Prices – For Customers in London and Throughout the UK
Whatever the scope or nature of your project, we have smart glass that's suitable. Talk to one of our experts today to find out which products meet your specification. To talk to us directly, call 01923 229 949. If you'd like us to call you, send us a message, and we'll make contacting you our priority.
Because Finepoint designs, manufacturers and fabricates its products, you'll have one point of contact through your project. You can even visit us at our dedicated factory in London to see our range of smart glass – and other products – by booking an appointment online. For a smart glass quote, talk to us today.
If you are interested in our other products too – which include aluminium bi-folds and sliding patio doors and wine cellars – please let us know when calling. We look forward to helping you with your enquiry.