Read More
Extremely Flexible and Stunning Glass Balustrades
We've designed and installed glass balustrades in London and UK-wide for residential and commercial customers. The popularity of this glass system is due in part to its inherent flexibility, as it can be used as part of the design in an atrium or staircase. If your project is diverse, we'll find a glass balustrade with the capacity to respond.
Glass balustrades are practical and visual value to any structure. Whether you need to install a glass stair balustrade – or something altogether different – you'll notice the transformative effect your installation has on its surrounding area. A sense of space will immediately be created, resulting in an environment that's light and bright.
Because glass is transparent, your nominated space won't suffer from the absence of light. This means the time and effort you've invested in renovating your home or business in London won't go unnoticed. Your interior will, instead, be revealed in all its contemporary splendour.
Contact us today and find out more about our bespoke external glass balustrades in London & the UK. The modern design of the frameless glass balustrade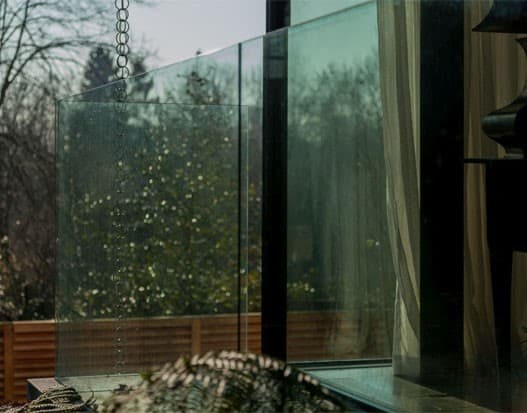 Our Glass Balustrades are Flexible
Glass blends in with any modern design and material. It's this inherent adaptability that makes it a popular choice for residential and business customers – not just in London, but UK-wide – who are looking for a versatile product that can respond to the demands of their design project.
If you want to add a glass stair balustrade to a room in your home or place of business, you could offset its modern appearance by using a range of materials. Wood, stone and metal could be used as part of your design plan to create a unique and eye-catching contemporary look.
We understand how important safety and security are to you. Our internal glass balustrades are built with strength in mind and can resist extreme structural pressure. In the unlikely event your glass was to break, it wouldn't fragment into sharp segments, which means no one would be harmed.
---
Read More
Glass Balustrades are Strong and Easy to Maintain
The intrinsic strength of our frameless glass balustrades in London means they won't let you down. Glass is often thought of as fragile and prone to breaking. In fact, our products are extremely strong and have been designed with longevity in mind. Whether you want a glass stair balustrade, or something different, your installation will be long-lasting.
You can trust Fineponit for exceptional inetrnal glass balustrades that offer improved durability, allowing residential and commercial properties to benefit from impressive structural glazing that offers a robust frame, increasing its longevity. The glass balustrades in London have been carefully manufactured to ensure they not only perform well but add contemporary flair to any style of property.
We install outdoor glass balustrades for homes and business in London and UK-wide. The products we use never suffer from corrosion and, unlike wood, won't be susceptible to problems like pest infestation. Your new glass balcony railing will continue to provide lasting value for decades, which means you won't need to worry about replacing it.
Discover the Glass Balustrade Cost for Your Project
Finepoint Glass has worked on many residential and commercial projects for customers throughout the UK. Our innovative approach – combined with our extensive product range – means that we can fulfil your design requirements, no matter what their scale or how complex.
We work with carefully sourced partners like AluK and Vetrotech to ensure our glass balustrades meet industry-leading levels of quality. We can further support your design endeavours with a portfolio of high-performing sliding doors, structural glass and Uber front doors.
To find out the glass balustrade cost for your home or business project, please contact us by calling 01923 229049 or use our online booking system to make an appointment. You can also visit us at our showroom to take a closer look at our internal glass balustrades, and any other products of interest.
Please don't hesitate to get in touch. The Finepoint Glass team will provide an exceptional service, turning your London or UK property into a work of art with our frameless glass balustrades.