Read More
How Does Heated Glass Work?
An opaque coating is added to the glazed area. An electrical current then passes through the top and bottom of the unit via a dedicated mechanism that is hidden, which means it won't disrupt the appearance of your newly installed glass.
As the electrical current makes contact with the see-through coating, it creates warmth. The power input can be adjusted to achieve your desired effect – to heat the glass, for example, or stop unwanted condensation or ice from forming.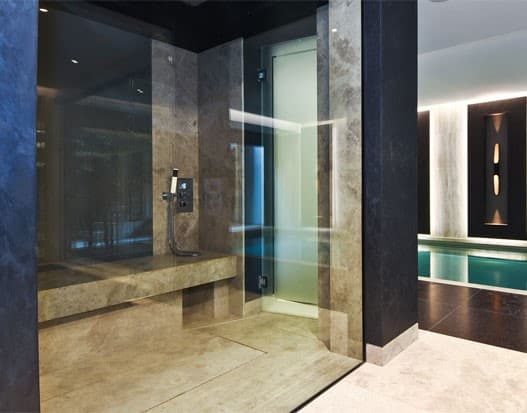 Heated Glass – Your Choices
Whatever your requirements, we'll find a tailored glass solution that meets the specifications of your project. We've worked on residential and commercial projects in London, and throughout the UK, so we're perfectly positioned to help you.
Heated glass can be used to warm an indoor swimming area; it is also used in extensively glazed rooms and is commonly found in heritage properties, as it enables homeowners to overcome planning restrictions imposed by their local authority.
---
Glazing and Framing Options
We've completed installations throughout London and the UK using a flexible and customised approach that works. Our heated glass can be supplied in single or triple glazed units, depending on the nature of the project.
If you want to maximise the glazed area of your installation – and fill your room with lots of light – a frameless option is available. Alternatively, the unit can be fitted directly into a framework. Contact us for further guidance.

Read More
Improved Thermal Efficiency
Heated glass will keep your home or office warm while preventing cold air and damp from entering. Your revised environment will be more thermally efficient as a result and produce a lower U-value score.
Your glass will reward you with improved comfort and more. You'll notice a reduction in your heating costs and your carbon footprint will shrink. Environmentally and economically, our heated glass makes sense.
---
Your Space, Your Choice
Complete the design of your new indoor swimming area, large-span conservatory or heritage home with our market-leading heated glass. Enjoy a revised space that's brighter, warmer and uncluttered.
We design, test and build the products we install. This means that we have an in-depth understanding of the glass that we install for our customers and can unlock the best possible solution for them.
You'll only ever have to worry about one point of contact when you choose Finepoint Glass as your installer, which means the entire process will be easy and stress-free.
---
Heated Glass Cost – London and UK-Wide
To find out h0w much heated glass costs, contact a member of the Finepoint Glass team to discuss your requirements. You can call us on 01923 229 949 or send us a message to request a call back.
We cover all of the London boroughs and the rest of the UK, for residential and commercial customers. You can view examples of our work on our Projects page.
You can view our heated glass products at our showroom. Book an appointment with us online, so that we can give you our full attention when you visit.
If you need help with a large project, please ask about our other products. We can design and install bi-fold doors, innovative glass, casement windows and more.