We offer three different, high-quality sliding doors made from premium aluminium. No matter if you are a homeowner, property developer or business owner, we will be on hand to make your design goals a reality.
The main appeal of installing sliding doors is enhancing access and improving ventilation. These designs meet the highest industry standards, from security to weatherproofing and thermal efficiency.
All the sliding doors we offer London customers are entirely customisable. You will have full control over the way the new aluminium installation looks and performs. We offer a range of colours and hardware solutions. Choose something bold or match your existing double glazing with our broad array of customisation options.
Review our range of sliding doors to learn more about their benefits and find the perfect installations for your requirements and architectural needs.
Infini Glide 6

Whether you are working on a product in a beautiful country landscape, urban skyline or stunning garden space, you can make the most of the panoramic view with the Infini Glide 6. These sliding doors have a frameless sliding system that can complement any style or era of architecture in the London area.
Crafted using cutting-edge technology and innovative manufacturing techniques, these high-quality aluminium sliding doors offer a luxurious addition to any London home improvement project that would suit high-quality floor-to-ceiling length glazing.
Infini Glide 6 can be installed with a maximum height of 6 metres with a 24mm sightline. This flexible, slimline framed, the modular system features expansive panes of glazing alongside sliding panels. This will flood any space with natural light, enhanced by the vertical sightlines and flush fitting profiles. They make fantastic back doors as they act like a seamless transition between the home and the garden, decking or patio area.
The Inifini Glide 6 system is highly secure because we know safety is a priority to our customers. These aluminium designs have been certified to RC2n for its market-leading security which is the European equivalent of PAS24 in the UK.
The frame and perimeter sash of these aluminium sliding doors can be concealed, resulting in an installation that looks like it is entirely crafted from robust glazing. You will also receive an aluminium door that is entirely openable and features glass-to-glass corners. You will find we have the most competitive prices for this product you will find. This means there will be more room within your budget to consider enhancement or save money.
Infini Glide 3
Our Infini Glide 3 doors are the slimmest of all our fantastic sliding doors. They feature an industry-leading 20mm sightline, which will help you enjoy panoramic views of your London surrounding plus enjoy a brighter space.
This elegantly slim aluminium sliding door have fully concealable frames and glass-to-glass corners so you can enjoy panoramic views of your surroundings. Unlike the other sliding doors in our line, the Infini Glide 3 blends into any type of London architecture.
For ultimate homeowner peace of mind, the Infini Glide 3 features an innovative four-point locking system for enhanced levels of security. Despite the expansive double glazing, these doors can also be fitted with glass-to-glass corners, resulting in a streamlined aesthetic.
This line of sliding doors is also thermally efficient. Enjoy a U-Value from 1.3 W/m2K to create a more comfortable London space. The insulation won't just keep a building comfortable all year round, but it will also help create a quiet and private space. This door is an ideal solution for homes in busy areas, thanks to the acoustic insulation properties.
Edge glide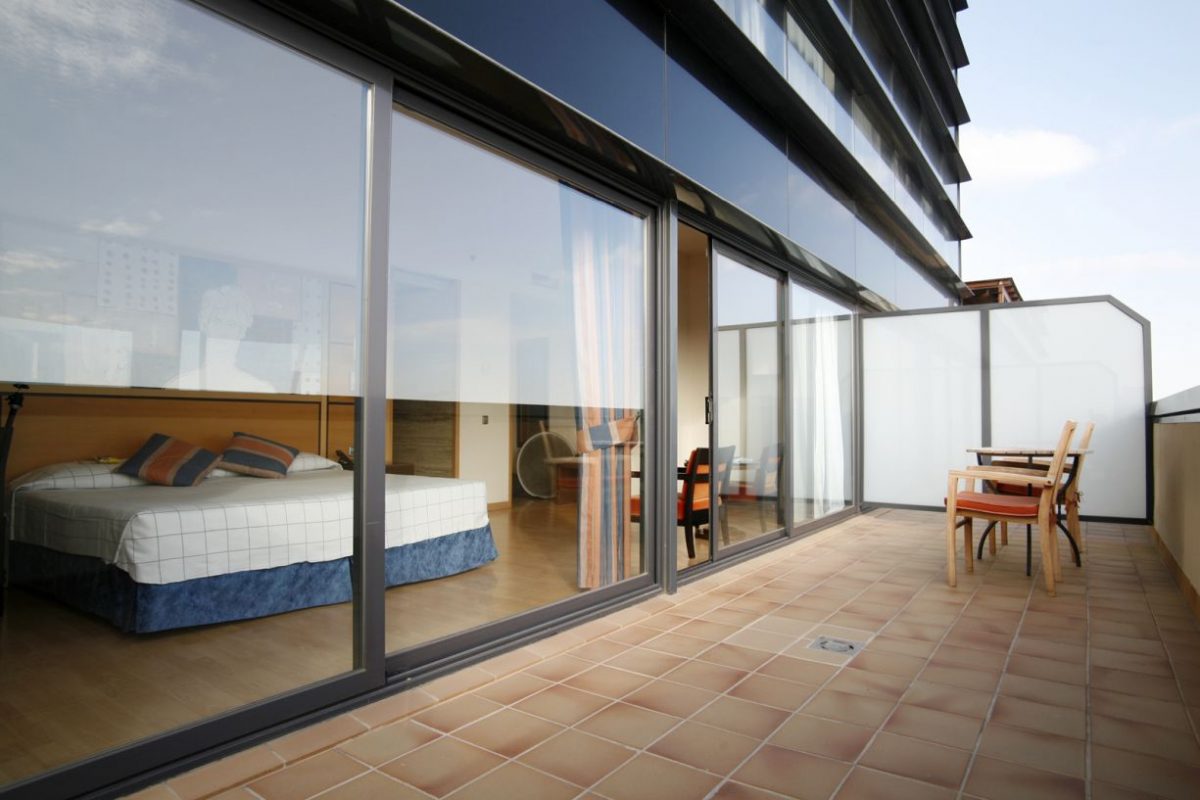 The Edge Glide design is sleek and unobtrusive, combining premium quality materials with elegant designs. The inline sliding mechanism will offer a space-saving solution for London customers, especially when space is at a premium.
The Edge Glide can flood any natural room with light, while its 42mm profile creates beautiful sightlines. You can opt for a two-rail system (60mm) or a three-rail system (106mm), either one of watertight and wind-resistant.
Your new slimline sliding doors will cohesively blend in with the rest of your building while creating a perfect transition between home and garden. The minimal use of framework can make a building appear more welcoming, brighter and give the illusion of more space.
Get in touch with Finepoint Glass for aluminium sliding door installations in London and throughout the UK – we cater to the requirements and preferences of both commercial customers and residential customers.
We have a team of experts in architecture and glazing on hand, so you know you will receive a service you can rely on. Our premium aluminium sliding doors are designed, manufactured and installed by an efficient team of experienced, in-house specialists based in the UK. We have a fantastic showroom and manufacturing facility in Watford where we create your market-leading sliding door.